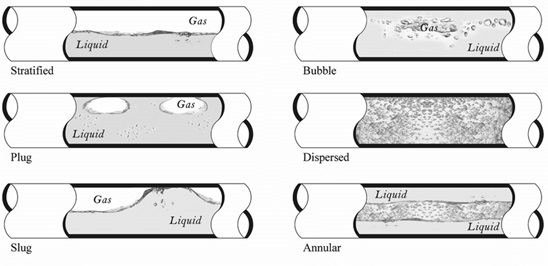 Bubble Flow Regime
Typically arises with high liquid flow rates and low gas flow. Dispersed bubbles suspended throughout the liquid flowing in the fired heater tubes.
This flow regime can be further sub-categorised as either Ideally Separated, Churn Turbulent, Interacting Bubble or Clustered
The bubbles will tend to travel in the upper portion of the heater tubes
Plug Flow Regime
Occurs at low vapor flow rates with 'plugs' of gas in that intermittently cover the cross section of the tube. Fired heaters with horizontal tubes will have gas plugs that flow in the upper portion of the tubes due to buoyancy forces.
Stratified Flow Regime
This regime is characterized by the vapour/liquid interface which the liquid at the bottom of the tube. Most common in fired heaters with horizontal or slightly inclined tubes. With high velocities, the liquid flowing portion will have waves, whereas lower velocities will have smoother behaviour.
Wavy Flow Regime
Fired heaters with this flow regime will have liquid and gas flowing in parallel streams. At low velocities, the interface between them can be flat, and become wavy at higher velocities (with smaller fired heater tubes).
Slug Flow Regime
This flow regime unsteady and has intermittent liquid 'slugs' containing dispersed bubbles of various widths.
When designing a fired heater, it is important to avoid the occurrence of slug flow regime inside all heater tubes.
The occurrence of this regime can be mitigated by increasing the velocity of the fluid flowing within the tubes. Therefore, reducing the number of passes and/or reducing the size of the tubes will act to reduce the extent of this regime.
Annular Flow Regime
The Annular Flow Regime inside a fired heater is characterised by the gas flowing in the central 'core' portion of the tubes and the liquid flowing along the circumference of the tube. If the core contains liquid droplets, this is known as annular-dispersed flow
Mist Flow Regime
Typical with high flow rates, this flow regime inside a fired heater is characterised by the liquid particles being suspended in a continuous gas phase as it flows within the tubes.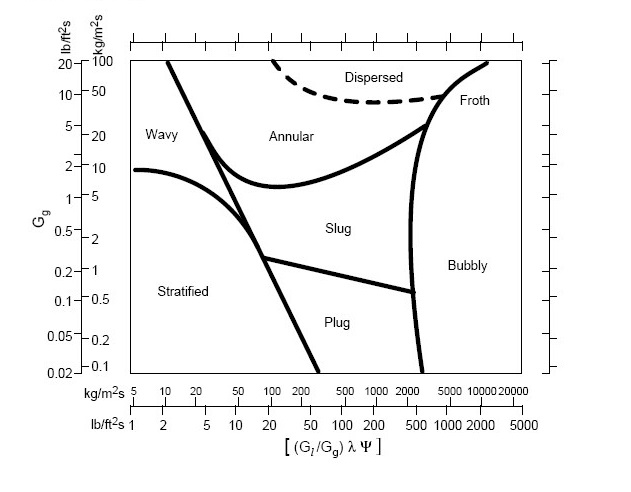 In many circumstances, a fired heater will be used to heat a feedstock (process fluid) beyond it's boiling point. For example, Crude Heaters, Vacuum heaters and Reboiler heaters, will often be required vaporise a certain percentage of their process flows.
This means that for certain tubes as the process vaporises, there will be multiphase fluid flow. In such circumstances, it is important to understand the type of flow, or flow regime, that will be exhibited since it will play a role in heat transfer and overall stability of the flowing fluid.
For instance, the slug flow regime can present significant instability and even cause the tubes to move and/or severely vibrate within the heater.
If you're having any issues with coil vibrations, or need further information regarding the impact of flow regimes, please don't hesitate to get in touch with us.